Just wanted to drop a quick note to say thank you for saving Apollo (now Cooper)! I knew the moment I met him he was meant to be part of our family. (Weird as it sounds, I felt an immediate connection.) He's a goofy, friendly, and playful dog and fits right in with our other two dogs. We adopted a dog from your org. back in 2006. She passed away in 2020 and when we were ready to look for a new dog we knew right where to start our search. Thanks!!
Adria Barnett
"Hi – I adopted Onyx (black/white on left) and just wanted to let you know that he is doing fabulously. I did change his name to 'Chance'. He gets along with everybody and all the animals, including the cat. He's going to start training tomorrow. He is such a lover."
Judy Brueghel
We adopted Bear almost 3 months ago now, but he fit so perfectly into our little family it feels like he's been with us forever! He and our other Aussie mix are truly two peas in a pod and she's loved showing him how to play and be a good pup. He's such a cuddler and can usually be found snoring next to his sister after a long day of sibling shenanigans. Bear has met lots of new people and new pups over the last 3 months and his sweet personality always shines through (he's literally sleeping on my shoulder as I type this). Thank you so much for choosing us to be Bear's family.
The Wolfgrams
I had been meaning to share a photo or two of Dexter and Tucker (Sylvester) since I adopted them in December. They are active 1 year olds and are still best buds. Thank you for sheltering them until we found each other.
Barbara Beacham
We adopted Selena 5.5 weeks ago and we adore her. We want your rescue to know how much we love her and appreciate the support Second Chance Animal Rescue has provided. We had worked with a different larger Mpls rescue before and had poor results being "matched" with a dog that was inappropriate for us. Thank you so much Jim and Rebecca for making sure that Selena would be at home with us! We love her and are so appreciative of your rescue!
Craig Powers and Amy Ervin
Hello. My name is Milo. You guys might remember me as 'Yoda'. My mom (Amy) adopted me 15 years ago last week! I am now 17 years old and still love going for walks, swimming and cannot get enough of my mom! She even gave me another little hoooman that drops treats on the floor for me! We love to travel; mom says I am a navigational specialist (important job). Thanks for helping me find my mom!
We want to thank Second Chance for bringing Loki (the cat) into our lives. He has been awesome. Charlie (the dog) and Loki get along so well – this picture is a common occurrence. Our children love Loki and he is a constant cuddle companion for all of us. Thank you!
The Alba Family
I cannot express my gratitude to Second Chance enough for my sweet Bun. Her name went from Sunny, to Sunbun to just Bun. She is my sweetest angel and I don't know what I would do without her. She is the most special being on this Earth. Thank you so much for choosing me to be her mama.
Kelly Weigel
After losing our 14 year old Coco, her 14 year old brother, Barney, seemed completely lost and in need of a friend. Second Chance came to our rescue. With the help of his foster mom, Mary, Barney got a new buddy, Sherlock. They both were so happy for a few months when, sadly, Barney passed and Sherlock was in need of a new buddy. Second Chance to the rescue again and, bingo, "Bugs", now "Watson", was a perfect match. Thank you, Second Chance for giving us a second and then a third chance. We all couldn't be happier.
Cherie and Tom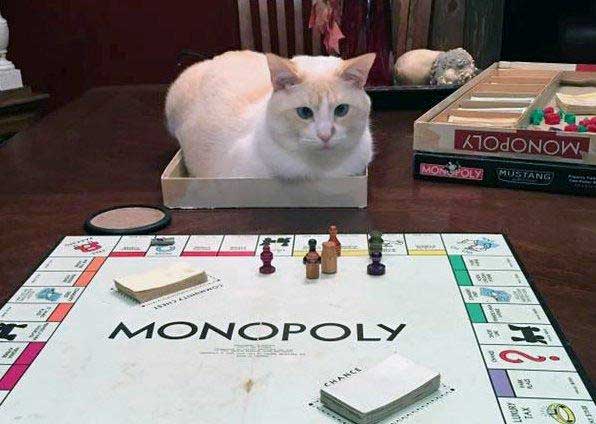 Happy New Year Second Chance! Thanks for all you do and for our fur baby, Elvis. If there is a box, he will claim it.
Cindy Decker
It has been 4 years since we adopted Edison and Samuel through Second Chance. They are happy healthy loving boys. And they unexpectedly got a younger sibling last year (I found him on the streets in downtown Minneapolis near my work). The three amigos have my heart. Thank you again and again for helping me start my furry feline family.
Aud Marie

My sweet boy Franklin formerly known as London. Such a sweet, playful handsome young man. He fits in so well.
Thank you for my beautiful boy.

Pamela Johnson
Thank you so much for our Lily! She is perfect in our eyes and our entire extended family adore her. She turned one year old this past April and we cannot imagine our life without her. We decided to bring home a sister for her – Emma is a poodle mix and they love each other.
Jill Runkel and Wally Jensen

We adopted Gina (on the right) this past November and I don't think anyone in our family can remember what life was like before her! She is our sweet, loyal and talented girl. Our other dog Wrigley soon became her best friend and they are inseparable. Gina loves snuggles, kisses, rewards, and especially loves hanging outside with us. I couldn't imagine life without her!
Alexandra Butcher and Family
We adopted this sweetheart from Second Chance Animal Rescue about 8 years ago. At that time his name was Yoda; we changed it to Tobie. He has been a wonderful dog and we look forward to many more years with him.
Linda Gerken
Today, Feb 20, is the one year anniversary of bringing our Elvis to his forever home. He has brought such joy and comfort to our lives. We spent the day today cuddling as usual. Thank you, Elvis, you are loved more and more each day. And thank you, Second Chance Animal Rescue, for the amazing service you provide.
Cindy Decker
Just wanted to send an update about Bruce Wayne (previously Blake) who we adopted from you in 2012. We now have a baby boy, and Bruce is so sweet and patient with him. He acts more like a big lovable golden retriever than a cat. Thank you again for rescuing him. He is loved so much!!
Kelsey Speer
We adopted Brian (aka Jasper) on 11/27/17. It didn't take long for him to feel at home, and he is inching his way into good graces with our other dog Freddie. Plus, they are both great at keeping the squirrels on their feet in our backyard!
Kristy Loth-Olson
Edison & Samuel have been home for 3 years now. I am so glad I found your rescue and these two orange boys. They are amazing creatures who love watching the wildlife out our back window, napping in one of their many cat towers/beds, playing with each other and their toy box full of goodies, snuggling up with their humans, and hunting for treats hidden in their mazes throughout the house.
Aud Marie
We adopted Bessie from Second Chance in 2008. Here she is enjoying a nice day! We love her so much!
Pam Anderson Ringsby
I just wanted to thank Second Chance for bringing us our Romeo! We adopted him last week and can barely remember life before him!
Talia Jackson and Family
Max has been my precious friend since the end of January; he's wonderful company and a terrific "shop dog." A HUGE thank you to Second Chance Animal Rescue for matching me up with this little fellow!
Carol Stabenow
We were looking for a female Shepherd mix over a year old and you showed us a 7 week old male Shepherd mix and we fell in love. He's so smart and well behaved!! He was the perfect addition to our family… Dakota is his name, and he will be 4 years old this summer
Sue Williams
We adopted Finn (the orange tabby) from you last November and can't imagine life without him!
Sandy Brundage
This is Brandy. We adopted her about six weeks ago. A little shy at first but just a lovable nut. So happy she found us.
Barry Schwartz
Elvis is in the house, the cat that is!! We just adopted a rescue cat from the Second Chance Animal Rescue. His name is Elvis and he is a Flame Point Siamese about one year old. He is so sweet and cuddly and likes investigating new places. Just after 2 days, Elvis has become acclimated to his new home and family and is the King of the house. He is such a snuggle puss. Thanks so much to Second Chance for the amazing work they do to save animals!
Cindy Decker
We fostered Jasper and ended up adopting him about 5 years ago. Our two year old son and Jasper are best friends. So much love. Thanks Second Chance!
Michelle and Nic Romero
Charlie adopted Labor day 2012. Bronson (doodle) adopted January 2013. They are best buddies.
Pam Scheler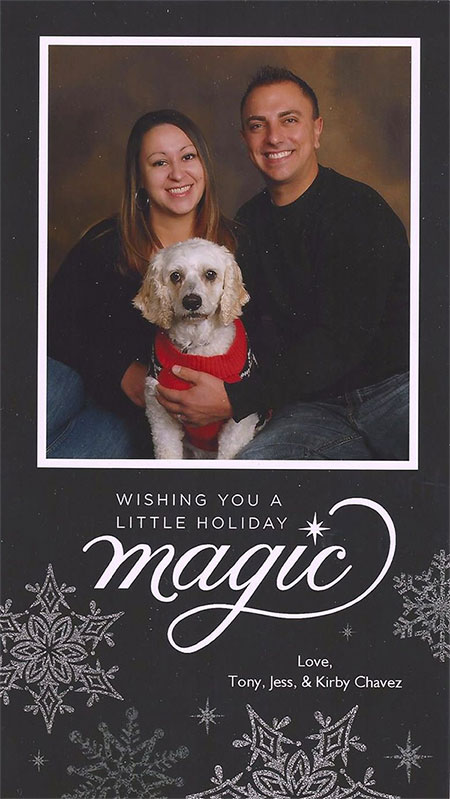 Tia's first Christmas in her new home (waiting for her presents). What a purrfect home for Tia where she blossomed into a confident cat.

Thanks Lynn and family.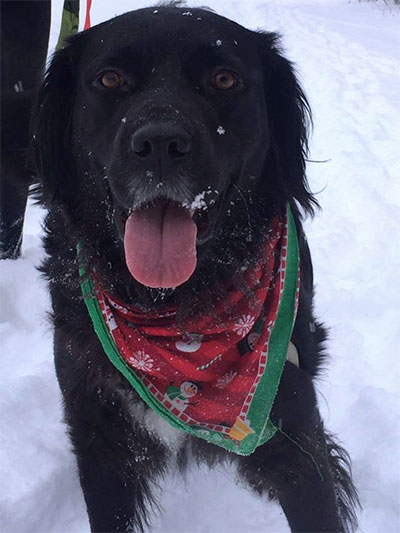 Our sweet Marnie, whom we adopted through Second Chance Rescue this past June. She loves the snow and her family and we sure love her!!!
The Sibert Family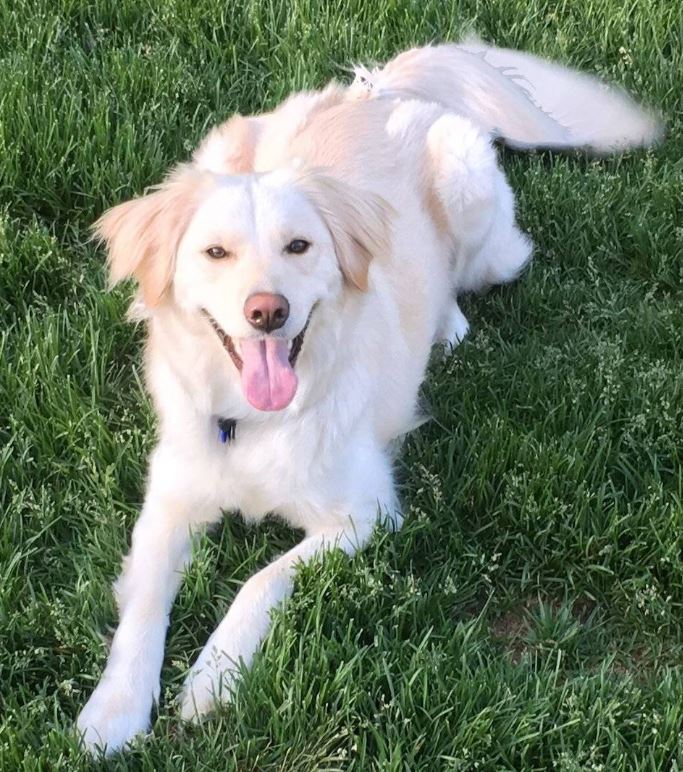 Dakota (formerly Maisy) came into our home as a foster in May 2015, however, our family very quickly fell in love with her and adopted her about three days later. She has been a wonderful addition to our home! Dakota and I recently became a registered animal therapy team through Pet Partners. We are so happy to be a Second Chance foster family, and now Dakota helps people learn more about rescue animals in her work as a therapy dog! Thank you so much!
Rebecca and family
Penny came to her forever home about 2 months ago and it has been the best 2 months our family has ever experienced. She loves to play outside, play tug-of-war and catch with the kid, and my flower gardens will never be the same. The amount of love this little girl shares with us is indescribable. We are so thankful to Second Chance Animal Rescue for saving this little girl so she could join our family and make us complete!
The Schmidt Family
My husband and I adopted Bear (still his name) in October 2015. When his foster dad Jim brought him to our house we fell immediately in love. Bear is a blessing to our lives and we can't (or don't want to) remember what our home was like without him in it. Thank you Second Chance for your awesome foster system and, of course, a shout out to Jim. The best foster around! ,Bear is the warm, laid back, sensitive, playful dog he is because of the care you gave him in love, dog socialization, and training. Bear's favorite thing to do now is play fetch. He is in LOVE with his frisbee, however many times it's been replaced. Thank you again for the work you guys do. We know how lucky we are.
Casey and Christin
Thank you to the moon and back Second Chance Animal Rescue for Zoey!!
Lynn Watson
This is Tobie. We adopted him from Second Chance about 5 years ago. At that time, his name was Yoda. He's one of the best dogs we've ever had; we couldn't love him more. Thank you Second Chance.
Linda Gerken
Hi from Michigan. My name is Corndog. My mom and dad adopted me from Second Chance in 2008 when they lived in Minnesota. In 2010, we moved back to Michigan where they were from. I am about 9 years old now (we think) and I have a pretty good life. I get good kibble, yummy biscuits and my choice of human beds, dog beds, chairs and couches to snuggle on. Last summer they got me a brother. His name is Shebang and he is a black lab/bloodhound mix. He takes all my toys but I am dealing with it. At least he isn't mean. Right now I am sacked out on the couch while my mom writes this. Yup…it's a pretty good
Shonda Grimes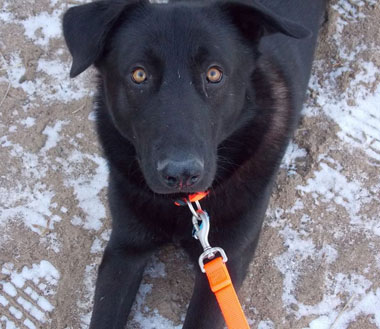 I have been meaning to do this for quite some time now! This is Bear (formerly known as "Sarge" during his time with Second Chance) and he has been with us for over 2 years now! Time has flown by and we couldn't have asked for a better addition to our family. We ask ourselves often, "How did we get so lucky?" Bear loves his Corgi sisters and also loves the cats as well! He has such a great personality that we are now in the works of getting him certified as a therapy dog. I just wanted to thank Second Chance Animal Rescue for bringing Bear into our lives!
Miranda Grode
We are blessed every day to have adopted our girl from Second Chance Animal Rescue (formerly Tia, now named Kahleesi).

Andrea Marie
Yesterday we were blessed to meet Brodie and his amazing foster Mom Rita. Today Brodie is quickly adjusting to Cartony family life. He fits right in to our pack. Thank you Second Chance Animal Rescue and Rita!
The Cartony Family
'Chelsea' Storkamp couldn't be happier on Christmas morning in her forever home. MERRY CHRISTMAS and thank you for what you do!
Steve Storkamp
We want to thank you for all you do to connect these special rescue animals with loving homes. This is a picture of our beautiful Rosie. We adopted her in April 2015 and love her dearly. She is so special to our granddaughter and is truly a family dog.
Dan and Phyllis Becker
Eddy is 14 years young today and a Second Chance '06 alum. Thanks Second Chance for bringing him into our lives!
Glynis Hinschberger
Yesterday Heaven gained another angel. Our handsome amazing boy, Shadow, received his wings and is now enjoying his days in Heaven. Although it was very heartbreaking to let our baby go, he was suffering with uncontrollable diabetes and pancreatic cancer. He was an irreplaceable member of our family and will be missed. Thank you to Second Chance Animal Rescue for saving Shadow (Tyler) and allowing us to share our lives with him for 12 years.
Jennifer Cartony
Today, and every day, we are thankful for our rescue dog, Luke. Thanks Second Chance! We are so happy that he is part of our family. And he looks pretty excited for Christmas!
The Milbrandt Family
Hello! I adopted a wonderful black kitty from you nearly two years ago originally named Beemer (now Winston) and I wanted to show this wonderful rescue how he's doing! He and his younger kitty sister Clementine bring so much joy to our house and we're so glad to have them both. Thanks for all that you do!
Taylor Hays
We adopted 2 kittens from Second Chance in the fall of 2012. They are happy, healthy and spoiled – Jackson and Ophilia.
Sara Oliver and Family
We adopted Bryce in July of 2015 and he is doing fabulous! He instantly became best friends with our one year old Black Lab, Luke. They are constantly wrestling and playing ball together. Bryce loves going to the park to run and road-tripping to the cabin to play at the lake. He is a huge cuddle bug and takes full advantage of being allowed in bed. You better get your spot first because once Bryce has gotten settled, there is no moving him! Bryce has blended into our home perfectly and we love him even more each day!
Melissa and Drew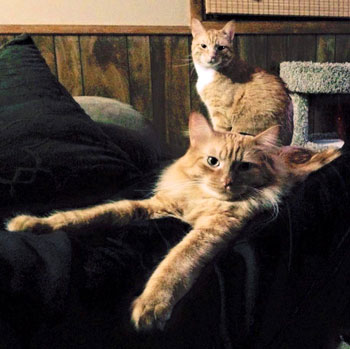 A year ago we brought these two home (Edison and Samuel), thanks to Second Chance. They are happy, healthy boys and we're so lucky to have them in our lives.
Aud Marie
I wanted to share a picture of Zack (formerly Bandit) adopted 3/15/14. Adopting him was the best decision I ever made. He is simply amazing and has made friends and fans (two and four-legged) wherever we go. This picture is at the Woodbury Dale Road dog park.
Liz Stimmler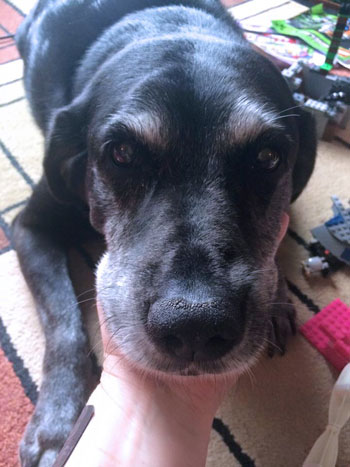 Our sweet black dog Shadow adopted from Second Chance Animal Rescue in 2004. Can't imagine (and don't ever want to) our life without him!
Jennifer Price Cartony
McDoods on #BlackDogDay. We adopted her as a puppy through Second Chance Animal Rescue and love her like crazy. She is smart, happy and sassy!
Sarah McNeal
Stella is a very happy girl with her new rescue sister, Betty! Thanks so much Second Chance for completing our family!
LJ Elwood
We adopted Olive (formerly Olivia) in July. Best thing we did! She fits in perfectly and loves her brother pug!
Megan Hebert
Today it has been 1 year since we added Dakota to our family! She was such a little thing (she was about 10 weeks old)! The other picture is the night we adopted her – last puppy left. We have loved seeing her grow and she is such a smarty! Dakota is the most behaved dog ever! We are so happy with adopting from your rescue! Thank you!
Heather Lamp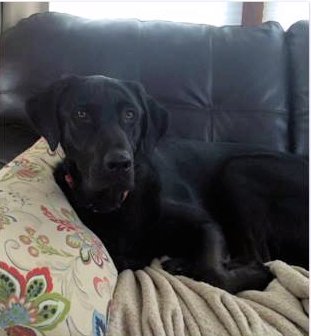 Just thought I'd share some good news – Second Chance alum, Abby, earned her Canine Good Citizen title! She is amazing and we love her so very much. Thanks for giving dogs like Abby the chance to show the world how awesome they really are!
Amy Conway
Thank you to everyone at Second Chance Animal Rescue! Ebony is such a blessing! Mucho thanks to Ebony's Foster Family for your loving kindness.
Lynn Watson
Hi Second Chance, it's me Herbie (formally Murray). I really like my new home. I have toys and bones and comfy dog beds but mom and dad also let me sleep with them. I really like sleeping in the big bed! I also have a big backyard that I can run around in and chase my tennis ball. Thanks for rescuing me and finding a forever home for me!
"Herbie" by Kristie Gorman
One year ago today our family met and adopted the best little shih tzu there ever was. Happy adopt-a-versary, Waldo! We may have saved you, but you definitely saved us! Thank you Second Chance Animal Rescue for helping Waldo and us find our fuuurever family, together!!
Shelby McCabe
We are so thankful to have adopted Grizzle and given him his furever home! He is a blessing and brings us great joy! Thank you Second Chance!!
Debbie Diemer-Price
Three years ago today, I adopted my little angel Rosie. Thank you Second Chance for rescuing her and allowing me to adopt her, I don't know what I'd do without her!!!
Michelle Basham
Hi there! I am Mom to Bruce Wayne (previously known as Blake!). He brings so much joy to my life. I could never thank you enough for rescuing him! (Bruce is the one on the far right in the attached photo).
Kelsey Speer
Thank you for helping Major Max find his forever home with me! I am feeling beyond blessed to have him in my life! I appreciate all of the Second Chance volunteers and fosters! Thank you Lynda for walking me through the process and to Janet and Sophie for taking such good care of my little buddy!!
Sarah Hartman
Hi! Just wanted to let you know that "Daisy", whom I adopted from you almost 5 years ago, just celebrated her 12th birthday yesterday. She's an angel; I never imagined a dog could be so sweet and good. I love her so much and am grateful for every day with her. This photo is her waiting as patiently as she can for me to give her her supper.
Alana Willroth