Foster Care Volunteers Needed
We place all Second Chance rescued dogs and cats into volunteer foster homes until they are adopted into permanent loving homes. We do not have a shelter or facility.
We need your help in order to save more lives.
If you would like to become a foster care volunteer for an organization that strives to provide quality care for the animals, please call us at 651-771-5662 or complete the form at this link.
We can only save as many animals as we have foster homes available.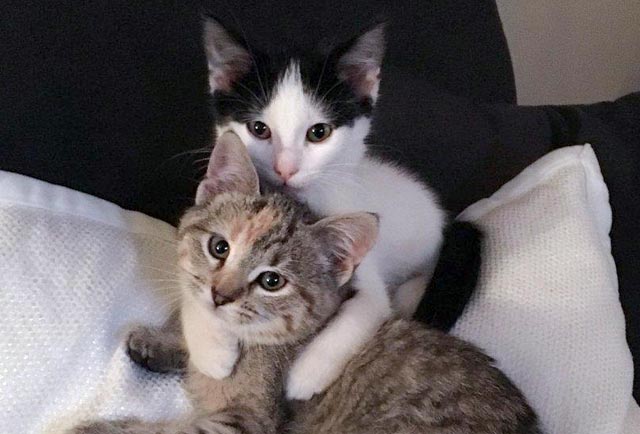 What you receive when you foster for Second Chance

The satisfaction of knowing that you have helped save the life of an animal needing rescue
Animal care supplies that you will need while caring for the animal. We provide appropriate items such as food, cat litter, carrier or crate, toys, leashes and collars for dogs, etc.
Loving animals for you to care for while they wait for their forever homes
An amazing network of animal lovers and friends
The support of compassionate people with decades of experience working with animals
The joy of watching an animal that you have nurtured transform into a healthy, well-adjusted, loving companion – because of you
The knowledge that you have made a difference and changed a life
An experience you will never forget and will want to continue
What the dogs and cats receive from Second Chance

Spay or neuter (if they are old enough), FeLV & FIV or heartworm check, vaccinations, deworming, and flea treatment before they come into your home
Any additional care they may need, such as dentals, removing mats from their fur, nail trimming, etc.
Our commitment to find them the appropriate loving, permanent homes through our thorough screening process
What you commit to do for Second Chance rescued animals

Care for the animals while they recover from spay or neuter surgeries or other medical treatments
Work with them to help them adjust to a loving, indoor, safe environment
Communicate with the dog or cat foster coordinator to prepare a personality "profile" on your foster animal so she or he can be put on Petfinder's website. (This information helps the public learn more about and view the wonderful animals we have available in order to find the right match for their lifestyles).
---
Forever Adoptive Homes

We want a lifetime rewarding experience for both the adopter and for the animal. We screen potential adopters carefully to make the right match for everyone. The foster participates in the process by showing the animal to the potential adopters, answering questions, and completing the adoption paperwork.
Animal Foster Care Opportunities
Dogs and Cats: Since most dogs and cats are rescued from animal control facilities, we don't have information about them. Therefore, we need foster volunteers to create a personality profile on the animals to let us know if they are housebroken, good with other animals (if you have any), good with children (if you have any), know any tricks or commands, etc.


Pregnant Dogs and Cats: Care for pregnant animals through the delivery and eight to ten weeks after birth in order to properly wean and socialize the puppies/kittens. We request that you have a separate room away from other animals for the foster animal to deliver and raise her litter.
Young Litters: Care for litters of puppies or kittens that are under eight weeks of age. Litters require from one to six weeks of care. There may or may not be a mother with the litter. Again, we request that you have a separate room or area away from other animals where the puppies/kittens can stay.


Medical Rehabilitation: Some animals need surgeries or other medical treatments requiring aftercare. If you choose to work with animals requiring special medical care, you will provide care for the injuries and transportation to and from medical appointments.
---
Hear What Some of Our Fosters Have to Say…
"I have been fostering dogs for Second Chance for six years and can't imagine my life without foster dogs. I have met many wonderful people and made many new friends – both other fosters and new "parents" of adopted foster dogs. The personal satisfaction of helping an animal in need is more rewarding than money or any other incentive. I foster because it is a way to make a difference – for me, the dog and the new owner. Fostering is a way to help out the animals without spending money and the rewards for saving a life is beyond measure. "
Rita Klingelhut

"I have fostered cats for over ten wonderful years with Second Chance and have found it very rewarding to watch a cat blossom in my home. The very shy and scared ones become well adjusted, secure, playful and trusting of people again. Some need extra time to adjust and some are ready to interact right away. I have met and stayed in touch with many very caring families that adopt my foster cats, and I have made good friends with the other fosters; we enjoy sharing experiences and cat stories. Fostering not only helps the cats but also gives me a good feeling. "
Loretta Neumann

---
"I foster large dogs for Second Chance because I have a fairly large yard that gives the larger dogs a good amount of running room. I have fostered over 60 dogs – over 40 of them have been Labs. When I started thinking about fostering I hesitated because I felt I would be limiting my attention to my dog, an older black Lab who had an untreatable cancer, but I wanted to see how fostering would go. The first foster dog I took into my home was a female yellow Lab who came from a large commercial breeding facility (a/k/a a puppy mill) and who knew nothing about living with a family. The two dogs would often lie on the floor together feet to feet. The foster dog learned from my dog about living in a home and interacting with people who cared about her.

When people ask me . . . isn't it hard not to keep all the dogs? I tell them that by letting my foster dogs go to wonderful forever homes, I have room to take in another dog and save another life.

I appreciate all the support from the other Second Chance volunteers – backup dog care if I need time off, dog food and supplies, and discussions on behavior problems. And, then there are all the funny and strange stories we accumulate about the dogs; it certainly makes life interesting! "
Joan Styve
---
"When I first started fostering cats for Second Chance, about 6 years ago, I didn't know anything about cats; I only knew that I wanted to do something to help less fortunate animals. I wasn't sure if I was up for the challenge, but Second Chance guided me through the process of caring for, nurturing and socializing cats of all ages, breeds and backgrounds. For someone who loves animals as much as I do, seeing a shy, scared cat become a confident, happy animal is the greatest reward of all. And when they get to go to a good home, nothing matches the feeling of having saved a life.

And yes, I get attached to them and it's hard to let them go, but in the end I know that there are always more animals out there that need my help."
Mariana Leimontas

"I'm always intrigued when people tell me that they couldn't possibly foster because they would want to adopt every animal. That hasn't been my experience. Although I have adopted a few animals in my 10+ years with Second Chance, I know I can save more animals if I foster rather than adopt. Every open space in my home is precious; it allows me to save a life. I'm proud to say that, to date, I have placed more than 160 dogs in loving homes, and many of the people who have adopted from me stay in touch. One family even gives me Mother's day cards! I can't imagine my life without Second Chance. "
Cheryl Gfrerer