This is a wonderful opportunity to help Second Chance raise much needed funds to continue rescuing the neediest animals in Minnesota – dogs and cats waiting at animal control impound facilities (for us to take them in before they are put down); dogs and cats in commercial breeding facilities who have lived their whole lives confined in filthy conditions; abandoned, neglected and injured dogs and cats; and a wide variety of other rescue situations. We work hard to give as many animals as possible a Second Chance at life and companionship. But, we can't do it without funding and your help.
Two options to Give – either schedule a donation prior to the 14th or give on November 14.
Schedule your donation before Nov. 14 so it Gives on November 14!
You can easily schedule your donation between now and November 13 if you might be busy on the big day of giving (November 14). Your account will not be charged until Nov. 14 and your donation helps towards the incentives offered on that day. And, each day of the scheduled donations, there will be one daily random drawing adding $500 to one person's donation. Please schedule your donation at this secure link – https://givemn.org/organization/Second-Chance-Animal-Rescue-1
Give on November 14
GiveMN will be offering several incentives to inspire nonprofit and donor participation in Give to the Max Day. There will be Golden Tickets selected every 15 minutes for $500 and one every hour for $1,000 – that means a person who donates will be randomly selected to have either $500 or $1,000 added to their donation! And, at the end of the 24-hour event, there will be a Super-Sized Golden Ticket, adding $10,000 to one person's donation between Nov. 1 – 14! 
Please Give to Second Chance Animal Rescue at this secure link: https://givemn.org/organization/Second-Chance-Animal-Rescue-1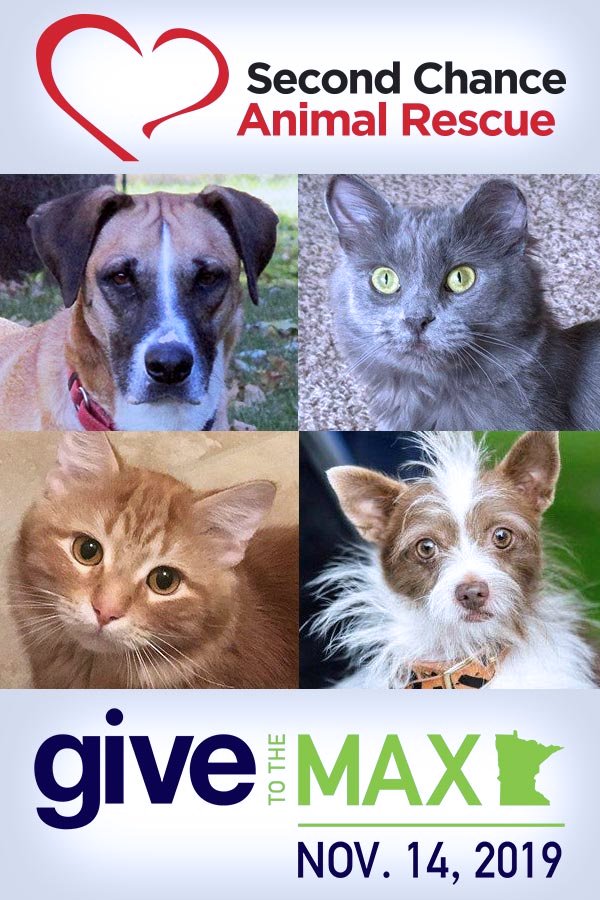 The dogs and cats thank you for your generosity!
Moxie and Riley want you to know that your donations help animals like them who need additional veterinary and specialty care.